See the Brainerd Colors From the Brainerd Skies
Brainerd's most thrilling outdoor adventure
We'll see you in the spring! For winter fun, please visit one of our partners.

Epic Winter Ziplining
Fly through a winter wonderland in one of the Midwest's top zip line tours, just southwest of Minneapolis.

Winter Fun in Brainerd
Enjoy skiing, snowboarding, or tubing at Mount Ski Gull. Check out lessons, races, season passes, and events.
You Haven't Seen Brainerd Until You've Zipped It
The thrilling Brainerd Zip Line Tour is the perfect outdoor adventure to add excitement to any Brainerd Lakes vacation. Experience 15-mile views on 7 zip lines, an adrenaline-pumping suspension bridge, and The Drop—an exhilarating 50' free-fall experience!
Rates for Our 7-Line Course
What You'll Love About Our 2.5 Hour Tour
Two professionally trained guides take small groups of guests through our course which weaves across and down Mount Ski Gull.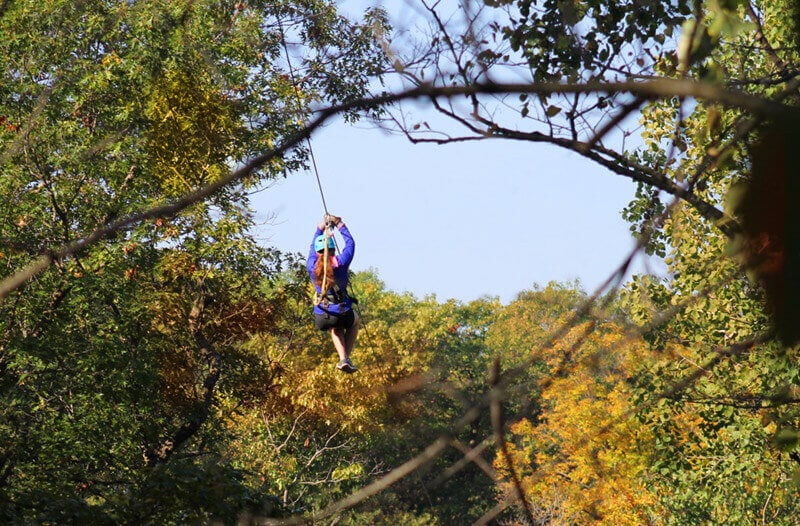 Our 7 lines open up gorgeous 15-miles views from Mount Ski Gull. You'll see the Brainerd Lakes and the surrounding forest like you've never seen it before!. 
Come experience "The Drop"—a thrilling 50-foot free-fall experience on our 7-line zipline course!
It's an optional part of our course, but our guests call the experience outrageous, exhilarating, and adrenaline-producing!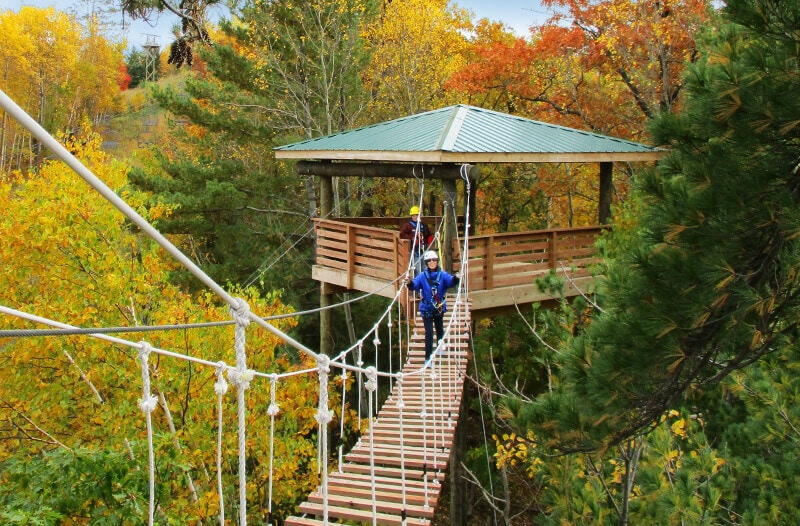 Our adrenaline-pumping, Indiana Jones style suspension bridge is sure to keep your heart pounding and a smile on your face!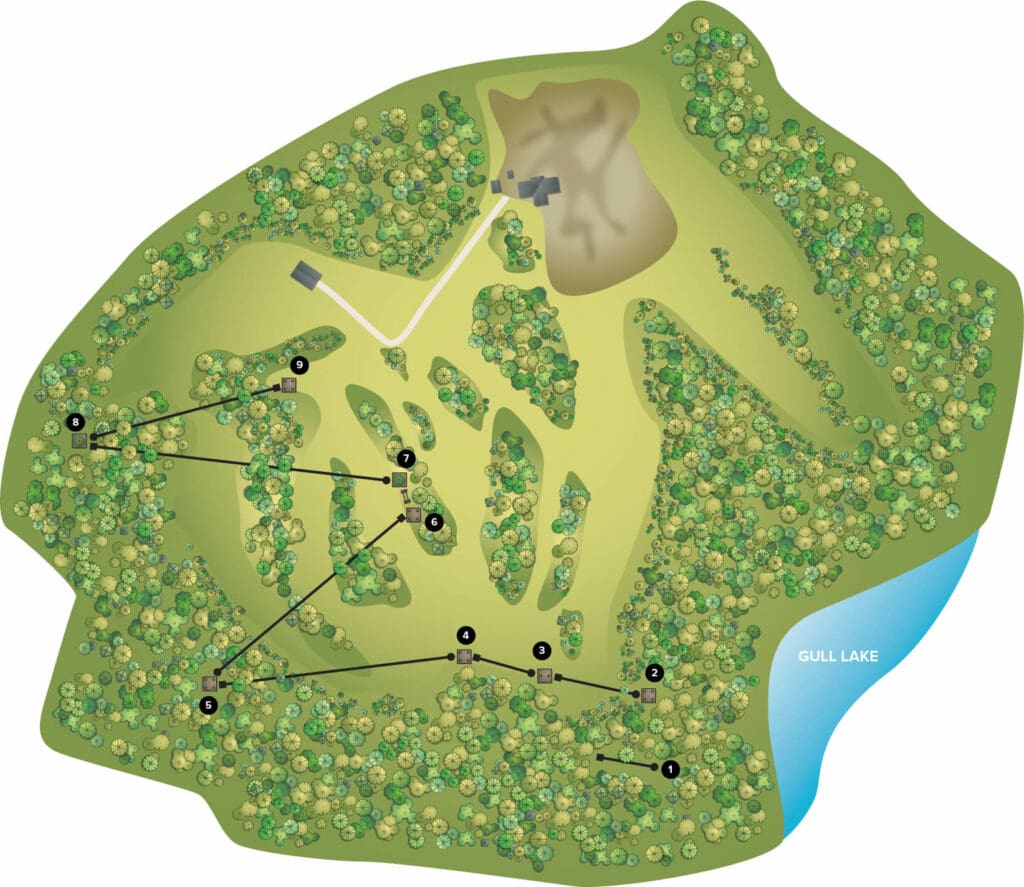 Located in Pillsbury State Forest and not far from Gull Lake, you'll catch views of the Brainerd Lakes area and take in your beautiful forest surroundings during the 2.5 hour tour. 
Line One: 50 ft
Line Two: 270 ft
Line Three: 220 ft
Line Four: 740 ft
Line Five: 808 ft
Suspension Bridge: 65 ft
Line Six: 950 ft
Line Seven: 550 ft
The Drop: 51 ft high
How People Describe Their Adventure
Amazing Experience
Had a great time seeing Brainerd from above. Guides were great and kept the encouragement up. The free fall was the most terrifying thing I've ever experienced. Loved it all!
Had a Blast
Had a blast doing the lines. Zach and Steph were great guides. Lots of laughter and fun.
Great Time
Our family had a GREAT time. They loved the guides and can't wait to come back and do it again.
We offer FREE pick up and drop off from Grand View, Cragun's, and Madden's. Just call (218) 656-1111 after you book, and we'll get your pick-up scheduled.
Drive Times…
From Grand View: 12 minutes
From Craguns: 11 minutes
From Maddens: 10 minutes 
Are reservations required?
Reservations are strongly encouraged. Without a reservation, we cannot guarantee that we will be able to accommodate you, although we will try to accommodate people stopping in if we have space available. Book Today!
What is included?
Brainer Zip Line Tour of Nisswa includes:
2.5 hour guided outdoor adventure
7 zip lines
exhilarating suspension bridge
The Drop – an optional 50-foot free-fall experience
All necessary safety equipment
light hiking
a van ride to the start of our course
incredible eco-knowledge provided by friendly, fun guides
Is personal handheld photography allowed on the tour?
Personal handheld photography is not allowed on our zip line course due to our hand braking system. If you would like photos of your experience you are welcome to bring your own hands free camera, such as a GoPro, or you may rent one which includes a USB memory stick of your footage. If you bring your own, we use helmet mounts.
How can I make group reservations for groups of 9 or more people?
Please contact us to organize a group reservation. You can also fill out our online group form here. We welcome groups of all sizes from a small scout group or family reunion to a large bus tour or corporate group outing. Depending on when you want to join us for your next group experience, we have other custom options available. We look forward to hearing from you soon.
What is your cancellation policy?
Our zip line tour runs in all weather, unless there is extreme winds or lightning. Our course manager on duty will determine tour cancellations and guests may be notified at anytime regarding a cancellation. If your tour is cancelled, we will offer you the opportunity to re-book the tour within a month of your cancellation date when we have availability.
If you need to cancel a reservation, cancellations made 7 days in advance will receive a 50% refund. Cancellations made within 7 days of a reservation will not be refunded but we will make every effort to reschedule your tour.
What if it rains?
We operate in all weather except high winds or lightning determined by our manager on duty. If it rains (or snows), we recommend wearing appropriate clothing. If we cancel your tour or experience, we will work with you to re-book it.
What should I wear on a zip line tour?
Dress for the weather, meaning warm weather clothes if it is warm, cool weather if it is cool, rain coats if it is raining, sunscreen if it is sunny, etc. We require that you wear closed toe and heel shoes with socks. We recommend that you wear pants or shorts long enough to feel comfortable with a harness on your legs. Please do not wear skirts. Please tie back long hair. Shirts are required. Brainerd Zip Line Tour is not responsible for items lost or stolen so feel free to leave valuables at home or in your car.
What if I'm running late?
All zip line tours begin at the booked time, so please arrive 15 minutes early. 
Give The Gift of Adventure!
Our gift certificates are available by mail or online. Please visit our gift certificate page, or call or email us with questions. We can't wait to help get your perfect gift set!